TNA Steed's Cars
TNA Jaguar XJ12
Steed owned a "Big Cat", a green Jaguar XJ12 Coupe 5.3 litre, an automatic model.

It was a road-going replica of a Jaguar Broadspeed car.

Its licence plate is NWK 60P.

The first appearance of the car is in House of Cards.

Steed's Jaguar XJ 12 Coupe in TNA episodes
More information about the car:

Site with many Broadspeed photos and they mention John Steed.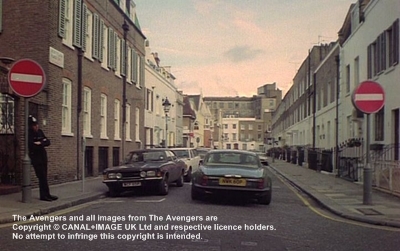 "I never believed in rules".
(Steed in The Danger Makers)
Steed does not longer drive any vintage cars during The New Avengers. He now owns a powerful Jaguar and two Rovers.
Nevertheless, he still kept one of his beloved vintage Bentleys, but unfortunately, the car got destroyed by a bomb in Dead Men Are Dangerous.

One can see the Jaguar and the Rover 3500 SD 1 inside Steed's garage in Hostage; a 1971 Range Rover stands in another garage in Cat Amongst the Pigeons. Steed also drove a few other cars during the series, but these three vehicles belong to him.

In August 2015 new information about Steed's 1976 Jaguar XJ12 C was published.
The car was in an auction of classic-auctions.com. The website informed that the auction would take place on 14th October 2015. Besides several photos of the car in its current state several details about the car got published:
Reg Number: NWK 60P
Chassis Number: 2G1008BW
Engine Number: 7P5411SA
Cc: 5343
Body Colour: Green
Trim Colour: Tan
- John Steed's famous mount in 'The New Avengers' TV series

- The eighth XJ-C 12 made and originally a Jaguar experimental car (as confirmed by its Heritage Certificate)

- Broadspeed body kit and extra wide wheels fitted for the TV series plus respray in Metallic Green and re-trim in Beige leather etc

- Dry stored for many years and now in need of restoration

source: www.classic-auctions.com
Below the description and several photos of the car in 2015 on the website: www.classic-auctions.com
Youtube video of the barn find
The Jaguar in August 2015.
Photos: classic.auctions.com

On 14th October the Jaguar that was offered by H&H Classics and has sold at auction for £62,000 (VAT excluded) - £50k over pre-auction estimate of £10,000-12,000.

source
Daily Mirror auction photo
Car magazine "Autocar" had Steed's Jaguar in it's Christmas special 1976 (25th December 1976)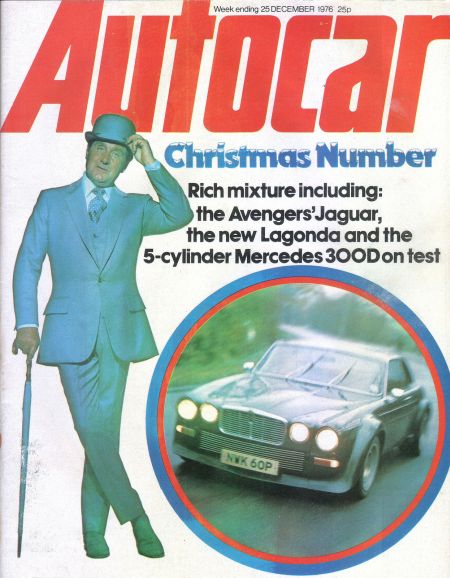 source: http://theamazoeffect.blogspot.de
According to the DVLA website, the date of first registration was 3-5-1976, the date of liability 1-9-1987.

"After the series ended, Steed's Jaguar was put up for sale by the production company and sold off ( The advert was in Jaguar Driver - January 1982 No. 263)"
The car was offered the first time for sale after TNA production ended in 1976.

Read information about the history of the car and the car models here on The Jagweb.com
John Steed Jaguar in the 'Hot Car' magazine from August 1977
Rebuilding the Jaguar
The company Cheshire Classic Cars, Cester is doing the rebuilding work.
According to their website (in January 2018) the unique car is now being restored.
They report that they "completely stripped the car and...carried out a substantial amount of rebuilding work" already.

Link to their website: http://www.cheshireclassiccars.co.uk/restoration-projects/the-new-avengers-jaguar-xj12
all photos:www.cheshireclassiccars.co.uk
more on their website