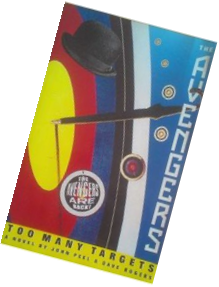 Steed's Cars - Damaged Cars

1. The Hour That Never Was: Steed avoids a collision with a dog but hits a tree. After that "the old girl" needed "some lifting tackle".

2. The House That Jack Built: Steed breaks with the car through a fence when he is looking for Mrs Peel. The left headlight is damaged afterward and all tires of the car are flat, because Steed drives over a barrier.

3. The Living Dead: Mrs Peel is working at Steed's car. Maybe she's making an auto inspection for Steed, but only found a ghost in the engine.

4. Something Nasty in the Nursery - eight bullet holes in Steed frontshield fired by fake Nanny Roberts at Steed's Bentley.

5. Death's Door: Steed breaks are not working and the agent prevents a collision with another vehicle by driving the Bentley to the shrubbery. He breaks through a fence and the front of the car gets damaged.

6. Dead Man's Treasure: The front shield the car shield gets damaged by a bullet.

7. The Positive Negative Man: The Bentley's dashboard is damaged by an electromagnetic pulse. As he can see nothing through the smoke, Steed steers the car into a pond to prevent a severe accident.

8. The Curious Case of the Countless Clues: The engine of the car was sabotaged. Steed unsuccessfully tried to start the car with a winch.






The Rolls Royce had two accidents:

1. Super Secret Cypher Snatch: The front shield of the car is destroyed by a latter, that was supposed to decapilate Steed.

2. Stay Tuned: Sally, a young lady, scraped her Italian car against his in Fitzherbert Street.




The TNA Jaguar and Rovers
Someone shoots at the car tires of Range Rover in The Tale of the Big Why
The yellow Rover got flat tires in Medium Rare.
Purdey shoots at the tires of Steed's Range Rover in Obsession.
Obsession: Steed drives his Range Rover about the rocket ramp to prevent the rocket launch. The car is completely destroyed.



Tara's Lotus:

Steed deliberatley attempted to wreck Tara's Lotus in Stay Tuned when he heard the word "Bacchus".

Steed's Bentleys got damaged or had accidents several times