"I bought myself a spanking new car."


That's what Steed told Mrs. Gale in series 3 episode Don't Look Behind You.
It's a 3 litre Lagonda supercharged vintage car with 85 PS. The car model was built between 1928 and 1934, but the production year of Steed's Lagonda is 1930.


Despite the Italian sound of the name, Lagonda was a British automobile manufacturer.

Steed arrives at Cathy's flat to invite Mrs. Gale for a run with the new car and intends to find out what the vintage car will do. He insists on driving her the long way down to Exmoor to Sir Cavaliers Resagne's mansion.
"Can't think of anything nicer - you at my site...wind catching at your cheek...wildflowers in your hair". He's not teasing this time - he stops the car on their way to Devon to pick some flowers for Mrs. Gale during the ride. And he promises her they will have lunch and a glass of port at a wayside inn..

1930 Lagonda
3 Litre Special Tourer

License plate: GK 3295


570 cars were built of this model between 1928 and 1934 in various guises.
The price for the special tourer was around 1000 pound in 1930.

An article about Steed's first vintage car was published in the Motor Sport Magazine 10/96 from October 1996, pages 53 - 56.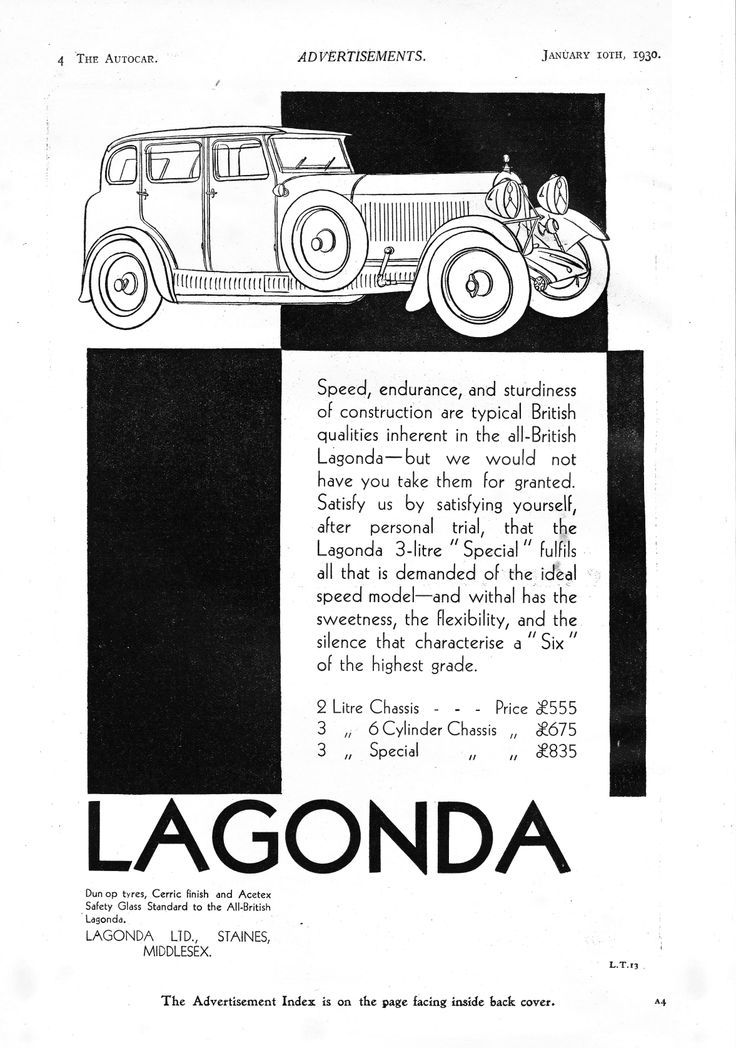 "A true Bentley alternative?"

Two of four pages of an article about Steed's Lagonda in the magazine: Motor Sport Magazine 10/96, pages 53 - 56; online available here:
http://www.motorsportmagazine.com/archive/page/october-1996/53


Trivia:


In the The Avengers Steed drove a few times with Mrs Gale, but most of the time in her car such as in Warlock or Propellant 23. He asked her to give him a lift back to London in Six Hands Across a Table.

According to Michael Richardson's book Bowler Hats and Kinky Boots. The Unofficial and Unauthorized Guide to The Avengers the Lagonda was first registered 21 October 1930 and still registered in 2013.
The car in The Avengers series 2 episode "Don't Look Behind You."