During The New Avengers Steed had several "relationships" with different women or at least he is dating them - no less than six of them within one year. The women are very different, younger ones or more at his age, blonde or brunette, default types, as if he did not know what he really wants. He's a man in his 50s, now libido and importance of having sex seems to subside a bit and is not so important for him as for the younger Steed, but nevertheless John Steed still enjoys the company of beautiful women. But in the end he's still married to his job.


1. Unknown woman with horse in front of the pond in The Midas Touch. Obviously she likes riding as many of his girlfriends but that's all known about her.

2. Unknown girlfriend/ date in a taxi outside the restaurant "The Cock Pit" in The Midas Touch. Nothing is known about the woman.

3. Jo (sephine?), who tried to poison him in the episode House of Cards.
She likes riding and she's a new girlfriend, who hasn't been in his mansion before House of Cards, because she's asking Steed about the photos of Cathy, Emma and Tara. Unknown to Steed she's working for "the other side" and gets ordered to kill him with poison.
Thanks to Purdey (bless her!) it does not happen, but Steed is quite shocked and disappointed afterwards.
4. Tricia at his first Birthday party in The Last of the Cybernauts...?? (flashback). She seems to be a special friend as no one except her, Gambit and Purdey is there when Steed is celebrating his birthday.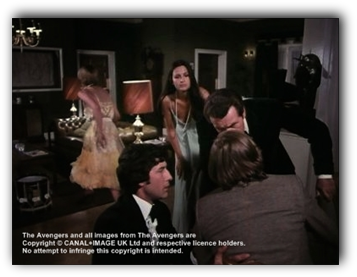 5. Laura,
she is warm and open-hearted, quick-witted, has humor and she is someone who seem to like him very much and so does he, as he makes her a generous present: a steed. On the other hand she seems to lack the spontaneity and the spirit of adventure of a Cathy Gale or a Mrs Peel.
But alas! Finally Steed gets kissed a few times by a woman and they're enjoying each others company. It's unknown what happened to the relationship, what is too bad as she has a good sense of humour in The Last of the Cybernauts...??

6. Helga,
finally Steed completely lost his taste in women. Helga is for the very basic (male) needs in To Catch a Rat, but maybe Steed was simply learning Norwegian.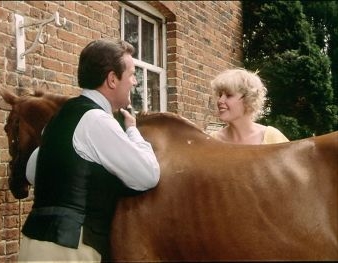 8. Suzy,
who is very "cool", beautiful, jealous and boring in Hostage. I wonder why he even asked Purdey to square things away with Suzy, as she thinks he's inordinately fond with Purdey.

7.Miranda
she appares in one epsiode, Trap, obviously she likes riding.