The Avengers Jigsaw puzzle

Manufacturer:Thomas, Hope & Sankey
produced for Woolworth
1966

artwork: Walter Howarth


4 Jigsaw Puzzles
340 pieces each
Size: 11"x17" approx.
Puzzle No.4

Picture shows:
John Steed leaves a building
The New Avengers
Jigsaw Puzzles

Arrow Games Ltd
1976

No.5592
Set of four puzzles

750 pieces
size: 64x46x3 cm/ 24"x18 1/4"
The motives of the puzzles are obviously related to episodes of series 4.

In the basement - Death at Bargain Prices
Archery practice: The Master Minds
Castle De'Ath - Castle De'Ath
No escape - The Town of no Return or The Gravediggers (according to the book:The Avengers A New)
(but no matching scene exists in the series)
One of the puzzle shows Steed tied to an archery target, wearing the leather/fur jacket as seen in episodes Two Is a Crowd, The Murder Market, The Master Minds and Maneater of Surrey Green. It's possible that we have a look at the original colour of the cardigan.
The Avengers
Steed Sword Stick
with secret aqua moisturiser

Producer: Lone Star
Manufactured: England
about 24 " long,
made of plastic
Year: 1966
The toy sword could load and fire water and corks.

"To load and fire water
Place end of stick in water and withdraw handle slightly, squirt water by pushing handle slightly back into shead.
Corks
Withdraw handle slightly, fit cork into end of stick. Push handle smartly to fire."


Photos can be found on The Little Storping Museum website of John Buss and on Mike Noon's website Deadduck
The Avengers Shooting Game


Manufacturer: Merit
Made in England
Year 1967

Little Storping Museum
Projectworldtoys

The New Avengers
Shooting Game - The Allocation shooting game

a game for two or more players
Manufacturer: Denys Fisher
Made in England
Year: 1977

Little Storping Museum
The New Avengers
Board Game - An exiting game for 2 or 4 players

Manufacturer: Denys Fisher
Made in England
Year: 1977

Little Storping Museum
Contents:
one game board with four different assignments,
one hat/umbrella spinner, 12 playing pieces -
4 Steeds, 4 Purdeys,4 Gambits

John Steed
Jigsaw Puzzles,Toys & Games
Puzzle No.3

Picture shows:
Steed in dark suit with dark bowler holding a short brolly sword, to his left Gambit who's holding a gun, in the background Purdey, to her left a Cybernaut
Puzzle No.2

Picture shows:
fighting scene (in a room that looks like Purdey's flat)
Purdey and Gambit in the foreground fighting against two men, Steed in the background
Puzzle No.1

Picture shows:
Steed, Gambit and Purdey; Steed drives a red (!) Jaguar,
a helicopter is firering at a building in the background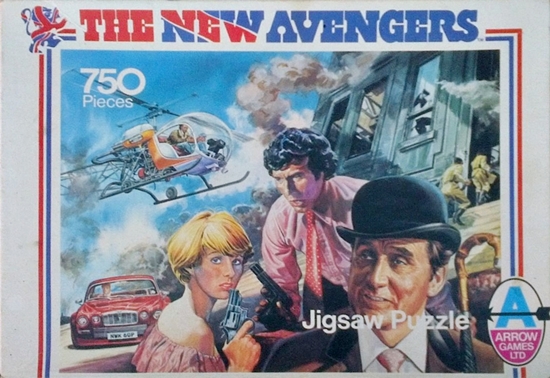 Licensed, but not issued toys
A Shooting Round Corners Gun
Chad Valley
1965
probably like the one Steed bought for his nephew in The Gravediggers