In 11th June 2010 liveauctioneers.com offered an original wardrobe prop from the series The Avengers.

It was the navy blue three piece suit worn by Patrick Macnee as John Steed during series 5 of The Avengers tailored by Hammond and Boyle Ltd., 22 New Quebec Street, W.1., London; inside labels with Patrick Macnee's name and the date "20-8-66".

Starting bid was $6,000.00

During The Avengers worn in:

The opening credit of series 5, Escape of Time, The Fear Merchants, The Correct Way to Kill, Who's Who???, Return of the Cybernauts, Death Door, £50,000 Breakfast,The Positive-Negative Man (without the suit vest)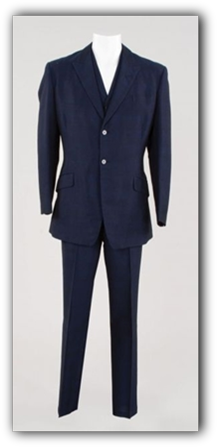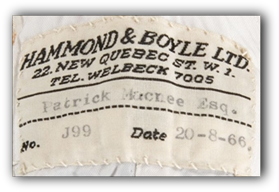 Photo: liveauctioneers.com
John Steed bowler hats
worn by Patrick Macnee in The Avengers
Navy blue bowler hat



London auctioneer Christie's offered on 29th November 2012 an original bowler hat from The Avengers series.

It's one of Steed's navy blue bowler hats made by Herbert Johnson.

Judging by the damage of the hat it could be the one from episode The Fear Merchants from series 5.


It was sale n. 7401, lot 123.

Photo on Christies.com

link: http://www.christies.com/lotfinder/memorabilia/the-avengers-1961-1969patrick-macnee-5634730-details.aspx?pos=93&intObjectID=5634730&sid=

Lot description said:

'The Avengers, 1961-1969/Patrick Macnee
A bowler hat of navy blue felt, with grosgrain ribbon and trim, lined in white silk with Herbert Johnson, 38 New Bond St., London printed on the lining and inner head band, signed in black ballpoint pen on the head band Maggie, Patrick Macnee; accompanied by a document concerning the provenance (2).'

It was a gift from Patrick Macnee to someone named 'Maggie', who "worked at Elstree Studios and was given this hat by Patrick Macnee after it was damaged during filming of The Avengers."

Price Realized

£5,000 Set Currency
($8,000)

Estimate

£2,000 - £3,000
($3,100 - $4,500)

Quotes: Christies.com

Photo from the auction on Telegraph.co.uk

On 15 October 2012 a fan on The Avengers International Forum informed the members about this auction and that his/her mother originally owned this hat.



The same auctineer also offered another bowler hat in 1992, grey bowler hat




Gray bowler hat



!7 December 1992

sale 4875, lot 439

Lot describtion said:


'A bowler hat of gray felt, lined in white silk with manufacturer's details Herbert Johnson, 8 New Bond St., London, printed on the lining and leather band, the lining additionally signed and inscribed To Eric Thank you Pat Macnee 1969 in black ink - worn by Patrick Macnee as Steed in the television series The Avengers; accompanied by a letter of authenticity giving the hat's provenance.'

and


'
The accompanying letter states that the hat ...was worn by Patrick Macnee in the 1968/69 Avengers series. It's use as a weapon during the series prompted the catchphrase "steel brim". At the end of the series Mr Macnee gave the hat...to Eric Hawkes who was involved in the costume on the production and had been a friend of Mr Macnee since the beginning of the Avengers in 1962.'

no photo

quotes: Christies.com


It's possibly the same gray bowler hat sold by auctioneer Sotheby's May 5, 1999.

It was sold again on 17.12.2010 during an auction of icollector.com for a sum of 11,000 USD

Item description from the auction:

"(ITV, 1966-1967) Hat by Herbert Johnson in dark grey fur, size 7 5/8, silk lining and inner leather hatband. Signed on the inner hatband by Patrick Macnee. Includes a long black umbrella. With a copy of letter of provenance from Granada Sky Broadcasting stating the items came directly from the actor. Sotheby's May 5, 1999."
quote: icollector.com
photos: http://www.icollector.com/Patrick-Macnee-John-Steed-signed-The-New-Avengers-bowler-hat-and-umbrella_i10030462


Photos of the hat and umbrella and the letter of provenance on website: thepropstop.wordpress.com

Hat and brolly
Letter




This one or another (light) gray bowler hat worn by Patrick Macnee as John Steed was offered by auctioneer Henry Aldridge & Son,Wiltshire on
19th December 2015
Lot: 297 a Herbert Johnson of London Bowler, Costume - (John Steed of the Avengers): A Herbert Johnson of London Bowler, grey, signed Patrick MacNee on the inner liner.

start and selling price unknown








Brown bowler hat

2009
In 9th October 2009 auctioneer Icollector.com sold a brown bowler hat, described in lot 589 as "John Steed derby hat from The Avengers" for 50.000(?) USD, according to the website. Starting price was 3,000.00 USD Estimated At:3,000.00 - 5,000.00 USD.
link:http://www.icollector.com/John-Steed-derby-hat-from-The-Avengers_i8632567

2012, March
The same or another brown bowler was sold by auctioneer Julienslive.com on 31.3.2012 for a sum of 4,160 USD

'A brown fur felt hat with a brown grosgrain ribbon and brown leather headband with traces of makeup attributed to Patrick Macnee in The Avengers (1961-1969). Marked "Herbert Johnson of London," size 7 3/4'
quote: Julienslive.com

2012, September
Another or the same brown hat was sold in an auction on 25.9.2012 (I guess it is the same one as the head size matches with 7 3/4 i.e. /.7,75 and if so it was sold again on December 2013) by natedsanders.com

2013, December
The same brown hat as above was sold in an auction on 21.December 2013 by Invaluables.com., Lot 310

Description on site:

' This bowler hat is custom-made by Herbert Johnson in brown felt, size 7.75, featuring silk lining and inner leather hatband. The bowler hat was personally given by Patrick MacNee to the Michael Bolton Foundation for charity auction and remains in fine condition.'

Patrrick Macnee had donated this hat for The Michael Bolton Foundation (now Michael Bolton Charities), an organization originally founded as a non-profit organization that supports children and women at risk of poverty, abuse, neglect, homelessness, and domestic violence. Macnee donated his hat from The Avengers as you can see here.
Inscription says:""To the Michael Bolton Foundation - Very Best Wishes - 'The Hat in the box is exactly the same as the one on my head'! Pat Macnee".

' Provenance: A Summer Musical Spectacular benefiting The Michael Bolton Foundation, Sunday, June 25, 1995. Lot 100'
.


Photo : liveauctioneers.com
On 17th December 1992 London auctioneer Christie's offered a suit worn by Patrick Macnee during The Avengers.

Sale 4875, Lot 438

'Lot Description

PATRICK MACNEE/THE AVENGERS
A suit of navy wool mixture, the jacket with turned back cuffs with rick-rack braid, jacket and trousers with manufacturer's details Hammond and Boyle Ltd 22 New Quebec St, W1 on woven labels, each printed with artist's name Patrick MacNee Esq, order number K.28253 and date 9-65.
Provenance

Purchased by the vendor an employee at Elstree Studios in circa 1969-70, after the filming of The Avengers television series.'

quotes: Christies.com
The description matches John Steed's suit from series 5 episodes The Return of the Cybernauts and Escape in Time.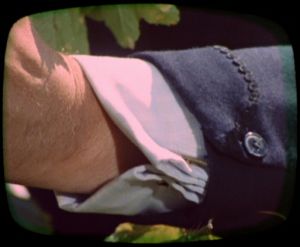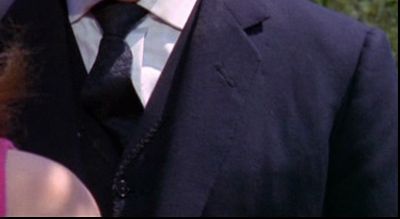 On 5th-6th June 2009 Heritage acuctions.com offered and sold (price unknown) a gray two piece suit of Patrick Macnee; tailored by Airey & Wheeler, Ltd., 129 Regent Street London, SW3 for "Patrick Macnee, Esq.".
Lot: 49163

An ink written (delivery?) date says 1/4/1977, but the auctioneer's site mentioned that it was the gray suit worn by Patrick Macnee on promotional shots for The Avengers.

Original description:
"Patrick Macnee's Suit. A custom-tailored two-piece gray suit with light herring bone pattern, owned and worn by Macnee. The suit bears Regent Street's Airey & Wheeler, Ltd., tag along the inside lining of the jacket with "Patrick Macnee, Esq." written on it in ink, and is accompanied by a b&w 8" x 10" photo of Macnee wearing it while posing with his Avengers co-star, Dame Diana Rigg. In Excellent condition. "
Link _https://entertainment.ha.com/itm/movie-tv-memorabilia/costumes/patrick-macnee-s-suit-total-3-items-/a/7006-49163.s?ic3=ViewItem-Auction-Archive-ThisAuction-120115

It would be this suit.

Photo:Heritage auctions.com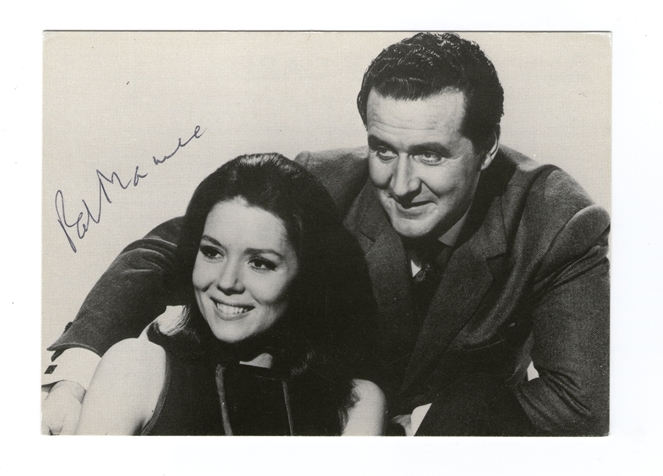 SUITS
worn by Patrick Macnee in The Avengers
Navy blue three piece suit
Navy blue wool mixture suit
The suit was sold again in another auction at Icollector.com on November 20th, in 2020 for 5,500.00USD.