History of Steed's Fashion

The idea for Steed's "dandified satorial style" wardrobe came from Sydney Newman and Patrick Macnee.

Head of Wardrobe Department of the ABC was Ambren Garland.

Responsible for Steed's wardrobe were Audrey Liddle, Francis Bolwell, Jackie Jackson; Patrick Macnee's tailor was a Mr Jones, cutter at Bailey and Weatherhill of Regent street.

Steed wore fashion designed by Hardy Amies (series 3) and by Pierre Cardin during series 5 with it's typical hight fastening, double breasted jackets. In 1969 Macnee abandoned Cardin's wardrobe and returned to a style that matched Steed's way better: English tailored suits while he was on duty and informal clothes for the more domestic scenes.

TNA Patrick Macnee's wardrobe somehow resurrected the satorial image of John Steed of the 60ths - the perfectly dressed gentleman with bowler hat and umbrella.

The series was a big success in the 60s. Either with the start of series 5 or some time earlier men's shirts were sold: Steed Bri-Nylon shirts, styled in Savile Row with a bowler and brolly at the label of the shirt.

A "The Avenger" Leisure Jacket", designed by Hardy Amies and worn by John Steed/Patrick Macnee in series 3 of The Avengers was sold by Hepworth in 1964.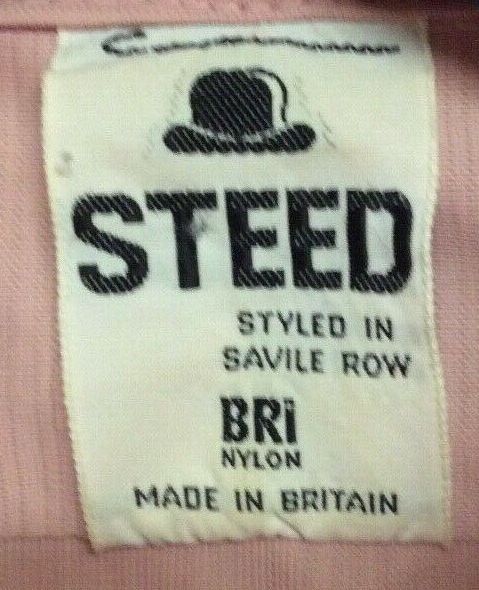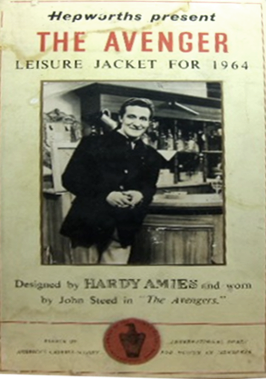 In mid January 1967 the fifth series of The Avengers opened in the UK.
15 organisations had banded together to form the Avengers Pack. Catsuits, dresses, watches, stockings, furs, hats, suede and leather wear, gloves, bags, shoes, rainwear, lingeries and so on.

On 4th January 1967 the fashion for series 5 was presented to the national press and public at a The Avengers Line '67, Fashion Show at The Palm Beach Casino.
Patrick Macnee and Diana Rigg, the two stars of The Avengers, and the young Alun Hughes, who designed Emma Peel's clothes for series 5, were in audience of the "Avengerwear 67' fashion parade" at the Casino in Mayfair. Over 54 items from fashion to assessoirs were promoted fort the show, amongst them Emma Peel Catsuits and Cardin suits.


The complete wardrobe for John Steed in series 5 of The Avengers was made by the French fashion designer, Pierre Cardin.
Suits and all other accesories (except the bowlers and umbrellas) worn by John Steed such as scarves, cravats and ties were all from Cardin too. They were tailored in the Company's worksrooms at Paris.

Pierre Cardin's clothes for Patrick Macnee/John Steed sold through Neville Reed and John Temple branches in the UK.


Patrick Macnee, Diana Rigg and Brian Clemens also payed the designer a visit at his Paris salon.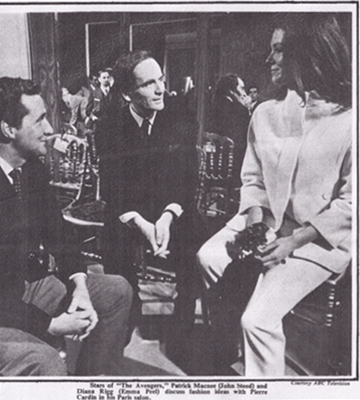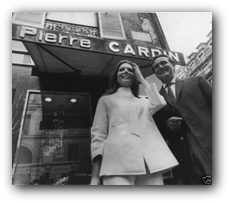 Cardin created at least 16 different outfits for John Steed, amongst them several suits, two dinner suits, sports wear and sports jackets and three different overcoats.