John Steed has a nice collection of wrist watche, and he owns at least two golden Hunter watches (Dial a Deadly Number and Super Secret Cypher Snatch).

I don't think it's possible to identify all the watch brands because you hardly get a close up of the watches.

Nevertheless, it is possible to state a few things.
Younger Steed (season 2 and 3) prefers watches with leather straps, also uses Nato/military straps and metal bands and most of the time round light dials, a dark dial can be seen in The Removal Men.
Series 5 and six Steed preferred a golden watch with metal watchband, in Return of the Cybernauts he had a watch witch a leather clasp.
Elder TNA Steed prefers a rectangular golden wrist watch with a fine golden strap, but there's a watch with a black leather band in Medium Rare and TNA Cat Amongst the Pigeons.
I could identify so far only a few :Take-Over, it's a Certina Watch, The Wringer, a Smith wrist watch, The Return of the Cybernauts - a Swiss Ingersoll.
This pocket watch is special because it saved Steed's life in TNA Faces.

It belonged to Steed oldest friend, Mark Clifford, who was murdered in Faces.
His wife, Wendy, gave the pocket watch to Steed after Mark's death.She thought it was the watch of Mark's great-grandfather and Mark's best friend, Steed, should get it.
It was however another watch, a gift to Clifforf from his political party, but nevertheless it saved Steed's live, as it stopped a 38 bullet when his double tried to shoot him dead.
He wakes the hypnotized Tara by using another pocket watch in Super Secret Cypher Snatch.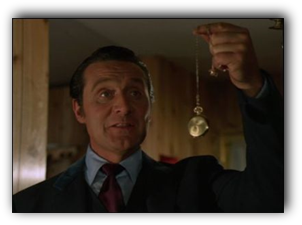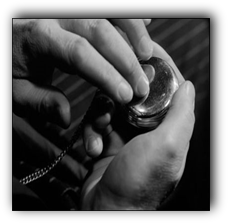 TNA Faces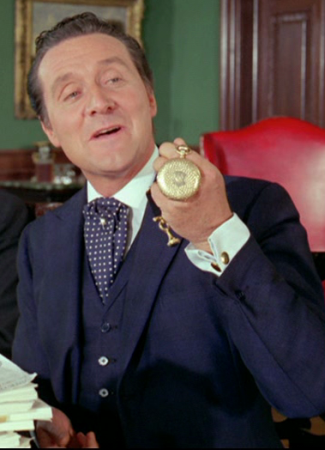 Grandfather's watch in Have Guns - Will Haggle
The Hunter watch in Dial a Deadly Number

Above: Steed's Smith wrist watch with arabic numerals and a silver (golden?) strap from The Wringer.The photo on the right shows a vintage Smith Empire, and it looks the same as Steed's except for the position and seize of brand and model name.
Smith wrist watch: The Wringer
Ingersoll wrist watch: The Return of the Cybernauts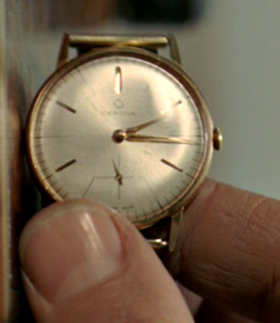 Cetina wrist watch: Take Over
The Hunter from Dial a Deadly Number (below) is however a legacy from his uncle. Mrs. Boardman switched Steed's watch against an exact copy of it containing an explosive device, which was supposed to detonate when Steed would open the watch.
Another watch, a legacy from his grandfather, appears in You'll Catch Yout Death.and Have Guns - Will Haggle