John Steed has a nice collection of wrist watches with different watch bands and at least two golden Hunter watches (Dial a Deadly Number and Super Secret Cypher Snatch).

I don't think it's possible to identify the watch brandsbecause you don't get a close up at the watches. The only exception is The Morning After (the second row left), but you can't see a name on the watch.

Nevertheless, it is possible to state a few things.
Younger Steed (season 2 and 3) prefers watches with leather bands, also uses Nato Straps and metal bands and most of the time round light dials, a dark dial can be seen in The Removal Men.
Series 5 and six Steed preferred a golden watch with metal watchband, in Return of the Cybernauts he had a watch witch a leather clasp.
Elder TNA Steed prefers a square golden wristwatch with a fine metal band, but there's a watch with a black leather band in Medium Rare and TNA Cat Amongst the Pigeons.
The only watch that I could identify so far is the one from Take-Over. It's a Certina Watch.
This is a special watch. It's saving Steed's life in TNA Faces.

It belonged to Steed oldest friend, Mark Clifford, who got killed in Faces.
His wife, Wendy, gave it to Steed after Mark's death, because she thought it was the watch of Mark's great-grandfather and Steed should get it.
It was however another watch, that Clifford got from his party, but nevertheless it saved Steed's live, as it stopped a 38 bullet when his double tried to shoot him.
The Hunter from Dial a Deadly Number (below) is a legacy from his uncle. Mrs. Boardman switched Steed's watch against an exact copy with an explosive device in it.
Another watch, a legacy from his grandfather appears in You'll Catch Yout Death.and Have Guns - Will Haggle
He wakes up the hypnotized Tara by using another pocket watch in Super Secret Cypher Snatch.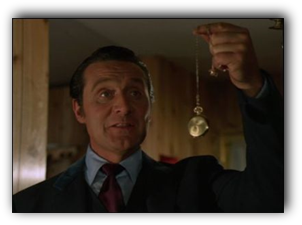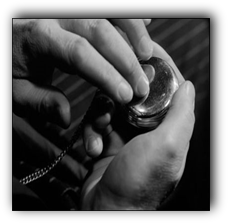 The Avengers and all images from The Avengers are
Copyright © CANAL+IMAGE UK Ltd and respective licence holders.
No attempt to infringe this copyright is intended.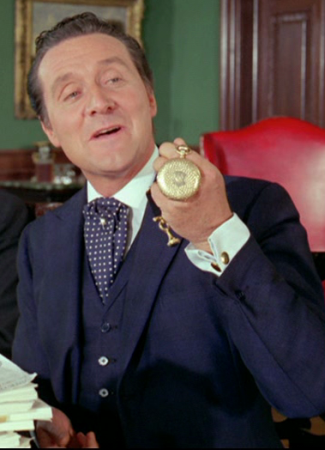 Grandfather's watch in Have Guns - Will Haggle
The Hunter watch in Dial a Deadly Number