Riding and Horses
"Tally ho!"

Series 4 episode Silent Dust is the Steed on horseback episode in the Avengers - John Steed is the knight in shining armor who gallops to the rescue of Emma Peel.
Here Patrick Macnee showed his excellent riding skills. The beautiful grey is the same horse that Laurence Olivier had ridden in Henry V. 20 years before Silent Dust.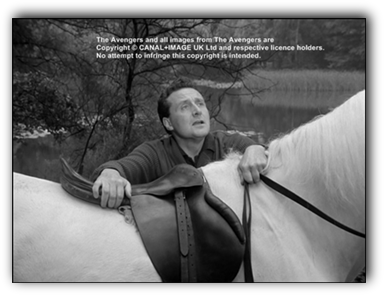 An afternoon ride with Mrs Peel in the tag scene of Two's a Crowd. He rides a small English saddle with knee rolls. It's a different saddle than the one from his flat, good for jumping and fast riding.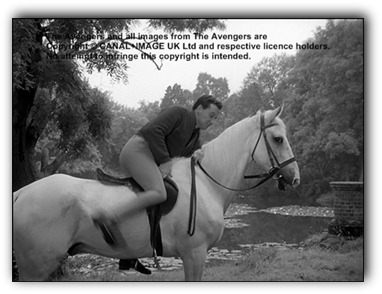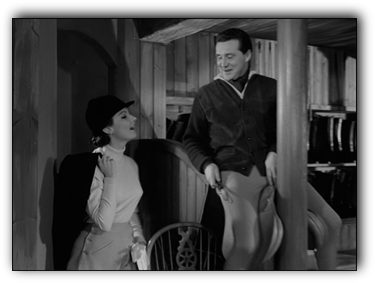 Steed in the saddle, but not on horseback: No real horse is in sight here in the stable, but Steed talks again about the polo ponies.

"I've a couple of polo ponies here, I'm very attached of them".
The Murder Market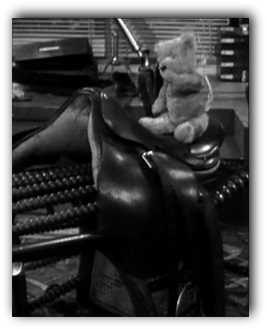 Steed's teddy in his saddle in Dressed to Kill. The saddle can be seen here, in series 4 The Girl from Auntie in the taxi and in series 5 in the storage room of the flat in episode Who's Who???

"Do you know anything about horses, Mr. Steed?", asked the stable owner's daughter Steed in the episode Trojan Horse.
But Steed's answer is, of course, an understatement:"I know which end is which."
Why? A few minutes later he's riding a racing horse in Trojan Horse in the company of the stable owner's daughter.
In the same episode, Steed got a present from the Sultan, Sebastian, a four-year-old. But to his surprise, Steed has to find out, that Cathy Gale is the real horse expert.

What the Butler Saw proves witness that Steed likes all sort of horses even the plastic ones.


Elder Steed is still fond of horses and now has his stables on the grounds, which appear in TNA Medium Rare and TNA To Catch a Rat. He makes a generous a gift to Laura, one of his girlfriends in TNA The Last of the Cybernauts...??, a horse and most of his girlfriends seem to like riding.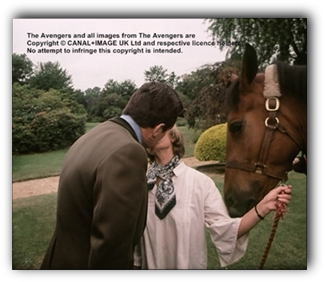 Steed returns home from a ride with one of his girlfriends in TNA House of Cards; His is riding the same horse that can be seen in TNA Medium Rare.

And elder Steed still has the spirit for a racing! Well, there is no chance for Mike Gambit to win the race against Steed in TNA Target.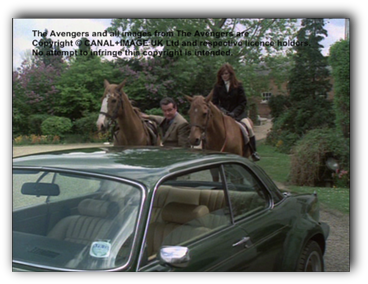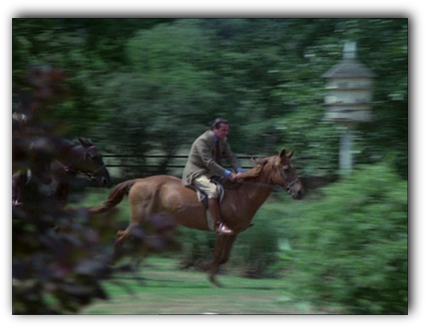 Steed is riding a rockinghorse in Reqiuem and a rockinghorse is inside Steed's fourth flat in the first episode of series 5, From Venus with Love.
Trivia:


Patrick Macnee's father, "Shrimp" Macnee, was a successful racehorse trainer and young Macnee knews the racing stable of Lambourn very well.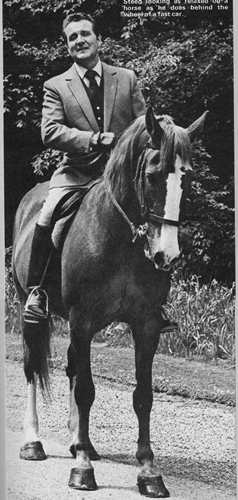 Photo of Patrick Macnee in The New Avengers Annual, 1977