Cathy Gale, PhD Catherine Gale
"Has Steed got a woman?"
"Yes, a Mrs. Gale".
(The Man With Two Shadows)
John Steed worked with his partner Cathy Gale from June 1962 to March 1964.

Dr. Catherine Gale (Honor Blackman), called 'Cathy' or 'Mrs. Gale' by Steed, was born on 5th October at midnight (Warlock) in either 1930 or 1932.

Cathy is the oldest of the women with whom Steed works. Just like her successor, Mrs Peel, Cathy is widowed, her husband believed have been killed in the early fifties during the Mau Mau uprisings in Kenya, where Cathy and her husband lived on a farm. Since she still wears her wedding ring years later, one can surmise that it was a happy marriage. After the death of her husband Cathy earned her livelihood with Safaris (The White Elephant), which why she is an expert with guns and firearms (The White Elephant, Bullseye, The Undertakers). In her first apartment (series 2) are numerous hunting trophies including lions, antelopes, water buffalos, crocodiles, or rhinos. Her connection to Africa is also present in the African art that she collects, such as masks and sculptures, all scattered about her apartment.

After returning to Europe (or maybe before she went to Africa), she earned a Ph.D. and doctorate in anthropology. Mrs. Gale obviously works for the Museum of Natural History, which is a part of the British Museum (Warlock). If she is employed there full time or working on a freelance basis is not clear, but probably the latter, since she assumes repeatedly other positions, which are often mediated by Steed. Cathy says a few times that she doesn't have a steady job, which is why she keeps taking on positions like the curating job in Esprit de Corps or the British Arts Council position in Concerto, etc. Steed even implies that they should live together in Esprit de Corps because she doesn't make a steady salary.

Mrs. Gale speaks several languages, including Latin, French, and Spanish (Death of a Batman, Death Dispatch,,The Grandeur that Was Rome). She travels often - either professionally or privately- to places like Paris and Morocco. Mrs. Gale does judo and knows how to handle firearms, but avoids the use of these whenever possible. However, she is not afraid to use force when it is necessary (The Nutshell, The Wringer). In her first apartment, she also has a small collection of old guns from the 18th or 19th century. Mrs. Gale is obviously musical, because there is a piano in her first apartment, and in the second apartment she has a collection of musical instruments (The Undertakers).

She's very well educated and interested in different topics: photography, finance, history, science, literature, languages and so on. Mrs. Gale lectures frequently on various topics, but is particularly interested in humanitarian projects and has also worked with aid organizations (Propellant 23).
She is a serious character, but most important overall, she is a philanthropist who is very open-minded and forms a distinct counterpoint to Steed's frequent cynicism, his unwillingness to compromise and she constantly questions Steed on the ethics of his actions (Conspiracy of Silence, Immortal Clay).

When she gets nearly killed in a fire in Lobster Quadrille, she decides to end her work with Steed and travels for some months to the Bahamas. In 1965 she writes a Christmas card (Too Many Christmas Trees) to Steed, while she is obviously working in The United States at Fort Knox.

She has an uncle, Joseph, (Man With Two Shadows) in Rye who owns bull terriers. Steed has to know the uncle as he mentioned that he took the dog, Freddy, for a walk (Man With Two Shadows).


While the address of her first flat is unknown, Mrs Gale second flat during the third season was located at 14, Primrose Hill, NW 1 London ( first seen in the last episode of series 2, Killer Whale)


She drives a sports car, an MGA MK1 Roadster from 1960 (Licence plate RVB 115). The car is in Propellant, Warlock, Mr Teddy Bear and Six Hands Across theTable. Cathy also rides bikes, a Triumph Speed 500ccm from 1961 in Build a Better Mousetrap.

Trivia
:

Patrick Macnee mentioned in his autobiography, that Cathy Gale's character based on at least three women: the anthropologist Margaret Mead, Margaret Bourke-White and another woman, whose husband and child were killed by Mau-Mau warriors.

In Too Many Christmas Trees Steed gets a Christmas card from Fort Knox which is a teasing reference to Honor Blackman's role in the James Bond film Goldfinger were she portrayed Pussy Galore.

Honor Blackman's role in the Bond film is mentioned a second time in TNA Cat Amongst the Pigeons when Gambit says "Pussy" and Steed answers "Galore".

In retrospective it's hard to believe that Honor Blackman was not first choice for the role of Cathy Gale. After the screen testings of several actresses six names remained, amongst them Honor Blackman, Nyree Down Porter and Fenella Fielding (The Charmers). Sydney Newman, who was managering director of the ABC, did not favour Honor Blackman, but nevertheless in the end Honor Blackman signed on for the role of Cathy Gale - four episodes at first.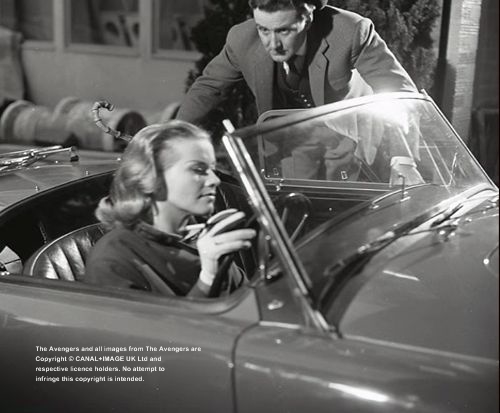 The Avengers and all images from The Avengers are
Copyright © CANAL+IMAGE UK Ltd and respective licence holders.
No attempt to infringe this copyright is intended.