3 Litre Bentley from 1928
3 Litre Bentley from 1928
Fourseater

Licence Plate: YT 3942

Speed Model
Chassis no.: AX 1662
Engine no: HT 1630
Coachbuilder: Vanden Plas
Date of First Registration 10 08 1927
Delivery Date: August 1927

First owner: C.H.W. Cross

More information on Vintagebentleys.org

Series 4

The Danger Makers (with licence plate UW 4887)
Small Game for Big Hunters (no clear view on the licence plate)
A Touch of Brimstone (with licence plate UW 4887)
The House That Jack Built (with licence plate UW 4887)
How To Succeed....At Murder (with licence plate UW 4887)


Series 5
Dead Man's Treasure (with licence plate UW 4887)
The Positive Negative Man
Mission... Highly Improbable

Series 6:
Split!
Have Guns - Will Haggle
The Curious Case of the Countless Clues
The Forget-Me-Knot

It also appears in a 1965 flashback scene in
TNA 'K' is for Kill - The Tiger Awakes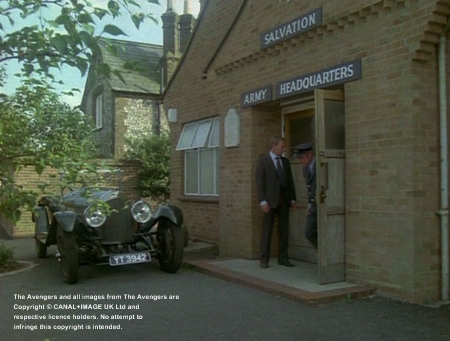 A vintage Bentley with the same licence plate appears in TNA episode K is for Kill - The Tiger Awakes in the 1965 flashback scene where the members of the Salvation Army were killed by the Russian soldiers.

This one and the wreckage of the destroyed Bentley in Dead Men Are Dangerous are the only vintage Bentleys in TNA.

The car is also one of the cars in the racing in the Peter Cushing film "The Ghoul" from 1975.



The Avengers and all images from The Avengers are
Copyright © CANAL+IMAGE UK Ltd and respective licence holders.
No attempt to infringe this copyright is intended.
One of the villians drove away in this car in The Forget-Me-Knot, he's one of three male persons who ever drove in one of Steed's Bentleys and he's the only one except Steed who ever drove this car.

The front shield of his car is made of bullet proof glass, which has been damaged in Dead Man's Treasure. Furthermore a TV screen can be installed in the car as one can see in A Touch of Brimstone.

Penny (Death Man's Treasure) was the only woman - except Mrs Peel - who drove with him in this car.
It's unknown why the licence plate UK 4887 was used for the 3l Bentley in several episodes.
The Bentley was also used in the Hammer film "The Ghoul" (1975), starring Peter Cushing, who portrayed Paul Beresford in The Return of the Cybernauts.